Introduction
The dairy production is one of the most important sectors of the world economy. It provides essential food for billions of people and generates billions of dollars in revenue annually. Dairy farms produce millions of liters of milk every year and play a vital role in ensuring the world has a sufficient supply of food.
As the global population approaches 9.7 billion people by the year 2050, humanity faces enormous challenges in feeding and providing the essential nutritional requirements for the growing population1.
This article will rank the top 10 dairy farms in the world, based on the number of dairy cows and milk production per farm.
Top 10 dairy production companies in the world
According to IFCN data from 2018/2019, it is possible to classify the ten largest dairy farms by production of raw milk as shown in Figure 1. The same ranking, considering the number of dairy cows, is also presented on figure 2.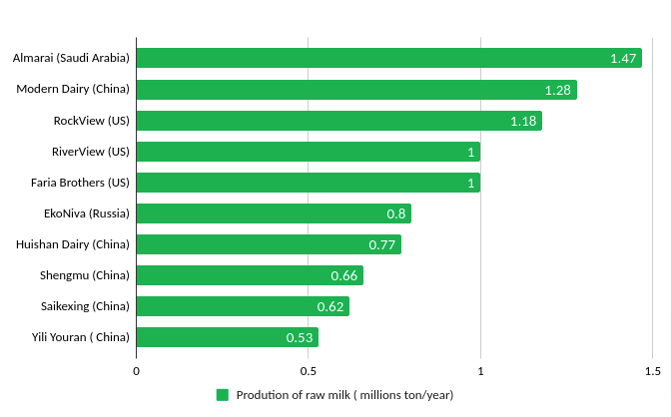 Figure 1: Raw milk production of the ten largest dairy farms (adapted from IFCN 2018/2019)
At the top of the list, the Almarai farm stands out as the largest dairy farm in terms of milk volume, located in Saudi Arabia. Almarai has more than 105,000 cows and produces 1.47 million tons of raw milk /year. This volume is equivalent to the total amount of milk produced in Indonesia or in Norway2.
Then comes the largest dairy farm in terms of number of dairy cows, Modern Dairy. Located in China, it has the largest dairy herd in the world, with over 134,000 dairy cows that registered a volume of 1.28 million tons of milk in 20182.
In third position, appears Rockview Family Farms, founded in 1927 and based in Southern California. It is a business in the United States, with more than 100,000 dairy cows and producing 1.18 million tons of raw milk in 2018. It has the distinction of being one of the last dairies in the area to maintain and control all stages from the cow's milk production process to the customer3.
At the same time, in fourth and fifth place are two American farms, both having produced one million tons of raw milk in 2018, Riverview and Faria Brothers.
Riverview is a large-scale dairy operation located in Minnesota, USA. Founded in 1939, it is a family business known for its innovative practices in dairy farm management. Such practices emphasize animal welfare, environmental sustainability, and social responsibility, using modern technologies. Today, the company is predominantly owned by the employees who work there4. This farm has approximately 95,000 dairy cows.
Faria Brothers is a large dairy with about 95,000 cows located in Texas. A particularity is that it uses a circular milking carousel, milking each cow in less than nine minutes and thus allowing seven hundred cows to be milked per hour, with each cow being milked three times a day5.
In sixth place comes EkoNiva, the Russian dairy farm that grows the most in the world, with a production of 0.8 million tons of raw milk / year and with 93,000 cows. Founded in 1994, it is known for employing modern technologies in its operations, such as robotic milking. Much attention is paid to the quality and composition of the feed, which are standardized considering the performance of the cows in lactation and their physiological condition6.
Immediately after that is Huishan Dairy, a Chinese company with 0.77 million raw milk produced in 2018 and around 100,000 cows. Unfortunately, in July 2017, the company admitted that it lost most of its cash and was struggling to pay its debts, so it collapsed at the end of that year and started bankruptcy proceedings7.
In the last three places on this list, three Chinese companies appear in descending order: Shengmu, which produced 0.66 million tons of milk in 2018 and has 73,000 cows, Saikexing, which had a production of 0.62 million tons of milk the same year, with 69,000 cows and Yili Yournan with a production of 0.53 million tons of raw milk also in 2018 and has 55,000 cows. It should be noted that Shengmu, founded in 2004 and located in the autonomous region of Inner Mongolia, is known for its emphasis on organic milk production. Dairy cattle are raised on certified organic pastures and fed organic feed, without the use of antibiotics or growth hormones8.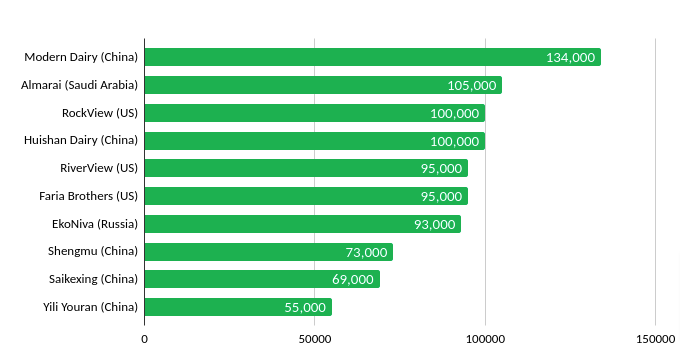 Figure 2: Number of Dairy cows of the ten largest Dairy Farms (adapted from IFCN 2018/2019)
Final Considerations
The world's top 10 largest dairy production farms stand as shining examples of the diverse and dynamic dairy industry, each contributing significantly to global milk production. Their impressive herd sizes and commitment to innovation and sustainability showcase the potential for success at various scales within the sector. As the dairy landscape continues to evolve, these farms inspire a wide range of players, from small and local operations to large-scale enterprises, to contribute to the essential task of meeting global milk demands and nourishing populations worldwide.
References
[1] S. N. Garcia, B. I. Osburn, and J. S. Cullor, "A one health perspective on dairy production and dairy food safety," One Health, vol. 7, p. 100086, 2019, doi: https://doi.org/10.1016/j.onehlt.2019.100086.
[2] Dairy Business News Yoda, "IFCN Top-10 List: Dairy Farming Companies Worldwide 2020," Feb. 27, 2020. https://www.dairybusiness.com/ifcn-top-10-list-dairy-farming-companies-worldwide-2020/ (accessed Jul. 27, 2023).
[3] "RockView History." https://www.rockviewfarms.com/rockview-history/ (accessed Jul. 27, 2023).
[4] "RiverVew." https://www.riverviewllp.com/our-story.html (accessed Jul. 27, 2023).
[5] CLUI, " FARIA BROTHERS DUMAS DAIRY, TEXAS." https://clui.org/ludb/site/faria-brothers-dumas-dairy (accessed Jul. 27, 2023).
[6] EkoNiva-APK, "Dairy farming." https://ekoniva-apk.ru/en/agricultural-production/dairy-farming (accessed Jul. 27, 2023).
[7] E. Barreto and A. Jourdan, "Huishan Dairy debt woes deepen as banks demand $220 million repayment," Reuters, Sep. 12, 2017. https://www.reuters.com/article/us-huishan-debt-idUSKCN1BN1EJ (accessed Jul. 27, 2023).
[8] China Shengmu Organic Milk Limited, "Company Overview." http://www.youjimilk.com/html/about.php (accessed Jul. 27, 2023).