Introduction
The dairy sector is one of the most important in the agroindustry in the world. This sector involves the production and processing of animal milk, whether cow, goat, buffalo, sheep or camel. The precious milk can be consumed and processed into different types of derivatives, such as: cheese, butter, cream, yogurt, among others. Dairy products have several nutrients such as calcium, magnesium, zinc, vitamin D and vitamin B12, playing a fundamental role in people's diets.[1]
Milk consumption is widely distributed among all cultures, and, for this reason, its global production was estimated at 929.9 million tons in 2022, according to the FAO (Food and Agriculture Organization of the United Nations).
One of the reasons is that even in countries where beef consumption is not cultural, such as India, milk consumption is common.[2]

Milk Capital of the World
India is the largest milk producer in the world, with around 221 million tons in 2021.
India is considered the milk production capital of the world for several reasons:[3]
Cattle Population

: this country has the largest cattle population in the world, with more than 300 million heads.

Culture and tradition

: cattle farming has cultural and traditional importance in India, as cows are considered sacred and are raised to provide milk, in addition to participating in religious ceremonies.

Family Farming

: Milk production in India is predominantly carried out by small-scale family farmers. This family structure allows for a wide distribution of dairy production throughout the country.

Variety of cattle breeds

: India is known for its diversity of dairy cattle breeds. Different breeds adapted to the climate and local conditions are present in this country. Such diversity contributes to more robust milk production, different breeds have different characteristics such as milk production, resistance to diseases and adaptation to different environments.

Availability of pasture

: India has vast areas of pastureland suitable for dairy farming. The country has a climate conducive to the cultivation of natural pastures and forage, which allows access to quality food for animals.

Government Programs and Support for the Dairy Industry

: The Indian government has been implementing several programs and policies to encourage the dairy industry. This includes providing technical assistance, improving infrastructure for milk cooling and storage, making agricultural credit available, and establishing dairy cooperatives to assist with milk collection and processing.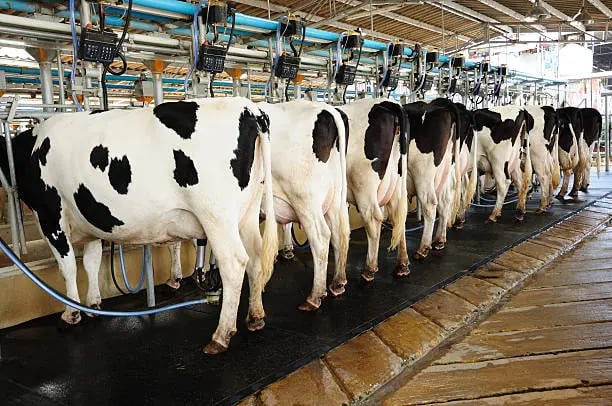 Top 10 milk producing countries
Milk production is an essential sector of the agricultural industry around the world and there are ten countries that stand out as the main global cow milk producers, as shown in the table below, based on 2021 data:[4]–[7].
| | | | |
| --- | --- | --- | --- |
| Position | Country | Millions of tons of milk produced | Number of dairy cows (in millions) |
| 1 | India | 108.3 | 57.6 |
| 2 | USA | 102.6 | 9.4 |
| 3 | China | 36.8 | 6.2 |
| 4 | Brazil | 32.5 | 15.9 |
| 5 | Germany | 32.5 | 3.8 |
| 6 | Russia | 32.1 | 6.5 |
| 7 | France | 24.8 | 3.3 |
| 8 | Pakistan | 22.2 | 15.2 |
| 9 | New Zealand | 21.9 | 4.8 |
| 10 | Turkey | 21.4 | 6.5 |
In this way, it can be stated that:
India

: India's rise to the top is a testament to the hard work and dedication of its dairy farmers and the support provided by the government. With a promising future, India is on its way to becoming a dairy superpower meeting the demands of a growing population. [3]

USA

: Milk is an important American economic good not only because Americans drink a lot of milk and consume its by-products, but also because it is a significant export. The reason for the success of the dairy industry in this country is technological advances, the centralization of milk production and large pastures. The U.S. dairy industry uses dedicated resources and industry investments to keep products and customers at the forefront of global dairy technology and innovation.[8]

China:

the dairy industry in this country is one of the fastest developing sectors within the food and beverage industry. Dairy products are seen as a fundamental element of a healthy diet. Demand that had been growing steadily increased even more after doctors touted its health benefits amid the coronavirus pandemic and dairy companies across the country embarked on a livestock construction rampage.[9]

Brazil

: the country has vast areas of pastures suitable for raising dairy cattle. The large territorial extension, together with climatic and cultural variations are the reason for the success of the dairy industry. It should be noted that tropical and temperate pastures are used for rotational grazing throughout the year in most of Brazil.

Germany

: According to the country's Ministry of Agriculture, nowhere else in Europe is there more milk production and more pork.
Nearly half of all farmers keep animals to produce milk, meat, or both. Thus, cattle are economically the most important farm animals. While the number of farmers is falling, herd sizes are increasing . [10]

Russia

: is the largest country in the world, occupying more than one-eighth of the inhabited land area on Earth. However, only a small part of the territory is suitable for human survival due to the harsh climate and very low level of fertilization. Russian milk producers are seeing their profitability decline as the wholesale price of raw milk has fallen by 15% since the beginning of the year in a context of oversupply, market players said [11].

France:

In addition to being the most visited country in the world, France also has its stars when it comes to dairy products. Milk production reached its lowest level since 2013, settling at around 2 million tons in June 2022. The country represents 16.7% of EU milk deliveries (year 2021) The dairy herd is also on pace to slowdown. The numbers reduced by 1.8% compared to 2021, reaching around 3.4 million heads in August 2022.[12]

Pakistan

: Pakistan's livestock sector is the economic engine for poverty alleviation. This country is one of the leading milk producers in Asia and milk is a staple in the Pakistani diet. It is further added that local farmers face many problems like limited education, lack of latest storage facilities, milk transfer and cold storage and to solve them, the government must come forward to train and educate farmers about technology.[13]

New Zealand

: although geographically small, this country is an important producer of milk, which is the country's main export product. It is important to consider that in New Zealand there are almost as many cows as people. Its geographic isolation protects its herd from disease; Its perfect climatic condition, extremely fertile soil, abundance of water and technology combined with organization make it the ideal place to produce milk.[14]

Turkey:

The Turkish dairy industry has expanded in recent years, meeting domestic demand for dairy products. The level of liquid milk consumption is very low, with the most common form of consumption being yogurt, followed by white cheese (feta type) and ayran (salty liquid milk drink). White cheese is a breakfast staple, as a filling for layered pastries and other baked goods, in salads and as an appetizer.[15]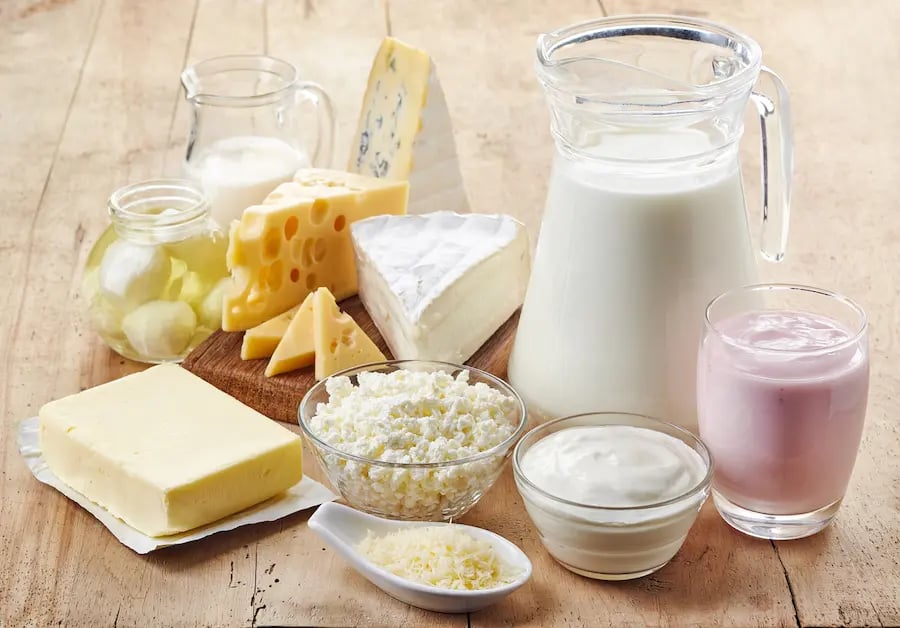 Conclusion
The dairy industry is an important sector of the global economy, providing food and other dairy products to billions of people around the world. In the future of humanity, the dairy industry will continue to be a vital sector, playing an important role in food security, nutrition and well-being.
This faces some challenges in the future, including increased demand for plant-based foods, climate change and antibiotic resistance. However, the dairy industry is working to address these challenges and ensure it remains a vital sector in humanity's future.
The dairy industry has a promising future. The demand for nutritious and sustainable food is projected to increase as the world's population continues to grow, so it is well positioned to meet this demand by providing a safe, affordable, and nutritious food source.
References
[1] EDairyNews, "Os 10 maiores produtores mundiais de leite," Canal do leite. Accessed: Sep. 12, 2023. [Online]. Available: https://canaldoleite.com/artigos/os-10-maiores-produtores-mundiais-de-leite/
[2] Agrofy News, "Quem são os maiores produtores de leite do mundo?," Feb. 24, 2023. Accessed: Sep. 12, 2023. [Online]. Available: https://news.agrofy.com.br/noticia/201002/quem-sao-os-maiores-produtores-leite-do-mundo
[3] Kukreja Dikshu Bhatia Sanjay et al., "DEVELOPMENT OF INDIA'S DAIRY SECTOR," IBEF BLOG. Accessed: Sep. 15, 2023. [Online]. Available: https://www.ibef.org/blogs/authors/vinay-kalantri
[4] "FAOSTAT." Accessed: Oct. 27, 2023. [Online]. Available: https://www.fao.org/faostat/en/#data/QCL/visualize
[5] "USDA, 2021. GAIN. Dairy and products semi-annual." Accessed: Oct. 31, 2023. [Online]. Available: Browse Data and Analysis | USDA Foreign Agricultural Service
[6] "AHDB. UK and EU cow numbers. ." Accessed: Oct. 31, 2023. [Online]. Available: https://ahdb.org.uk/dairy/uk-and-eu-cow-numbers
[7] "CLAL. Dairy by Country." Accessed: Oct. 31, 2023. [Online]. Available: https://www.clal.it/clal20/en/
[8] U.S Dairy Export Council, "Conheça os laticínios dos EUA." Accessed: Sep. 13, 2023. [Online]. Available: https://www.thinkusadairy.org/pt-br/home/us-dairy-advantages
[9] Kellen Severo, "Demanda por proteína animal crescerá na China," Mar. 2023, Accessed: Oct. 19, 2023. [Online]. Available: https://jovempan.com.br/opiniao-jovem-pan/comentaristas/kellen-severo/demanda-por-proteina-animal-crescera-na-china.html
[10] "Com economia invejável, Alemanha possui a maior produção de leite e de carne suína da Europa," Canal Rural. Accessed: Oct. 27, 2023. [Online]. Available: https://www.canalrural.com.br/projetos/sites-e-especiais/com-economia-invejavel-alemanha-possui-maior-producao-leite-carne-suina-europa-75128/
[11] V. Albuquerque, "Rússia Busca Aumento Na Produção De Carne Bovina", Accessed: Oct. 19, 2023. [Online]. Available: https://www.brangus.org.br/noticias-raca-brangus/rssia-busca-aumento-na-produo-de-carne-bovina
[12] S. GONSALES, "Além da Torre Eiffel: o leite francês," Milk Point. Accessed: Oct. 27, 2023. [Online]. Available: https://www.milkpoint.com.br/colunas/leite-no-mundo/franca-alem-da-torre-eiffel-232190/
[13] Compre Rural Informação, "China deseja explorar o setor de laticínios do Paquistão Leia mais em: https://www.comprerural.com/china-deseja-explorar-o-setor-de-laticinios-do-paquistao/." Accessed: Sep. 13, 2023. [Online]. Available: https://www.comprerural.com/china-deseja-explorar-o-setor-de-laticinios-do-paquistao/
[14] L. Granwal, " Dairy cattle livestock numbers in New Zealand 2011-2022 ," Sep. 2023. Accessed: Oct. 24, 2023. [Online]. Available: https://www.statista.com/statistics/974482/new-zealand-dairy-cattle-numbers/
[15] E. Taviloglu, "Tudo o que você sempre quis saber sobre o queijo turco." Accessed: Oct. 27, 2023. [Online]. Available: https://pt.hiloved.com/tudo-o-que-voce-sempre-quis-saber-sobre-o-queijo-turco/